Vote
For further training via the Zoom program or at our office? ?
Visit the refugee camps in Iraq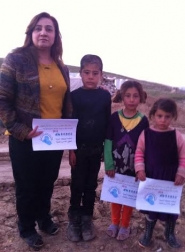 Visit the refugee camps in Iraq
The International Belgian Organization for Human Rights and Development in cooperation with the Association for the protection and development of the Iraqi family and within our mission of: peace in all colors from Iraq to the world, the representative of the Association for the Protection and Development of the Iraqi community in Mosul and Dohuk Sana Tabana paid a visit to Yazidi families that have been displaced from the Iraqi province of Mosul to the camps of displacement in Dohuk province today; January17th, 2016. In a meeting with kids, women, and the elderly, Ms Sana Tabana announced that humanity unites everyone under the human values ​​that cannot be divisible by the forces of darkness and terrorism embodied in  Daesh . Ms Tabana also ensured the displaced that their families in all provinces of Iraq and the rest of the world reveal ample solidarity with them in this challenge and that their voices and the voices of the kidnapped from Alaesideat women will reach the whole world. In brief, the conscience of humanity will remain unified by the power of peace, brotherhood and humanity.