Vote
For further training via the Zoom program or at our office? ?
Six Thinking Hats Circle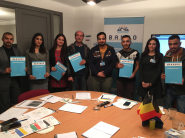 Six Thinking Hats Circle
Our organization has succeeded in holding its second free training circle for the season 2015/2016. Fifty trainees from around the world participated in the session entitled "Six Thinking Hats".
The session lasted for three days; from February21st to February23rd, for an average duration of thirty-hour training .
While the session took place at the headquarters of our organization in Brussels students from around the world participated online through the Virtual Training Hall.
Students were taught modes of thinking in a positive manner, and far from discrimination in all its forms. Furthermore, students were equally trained on the latest scientific methods to generate useful new behaviors and eliminate the negative attitudes and habits through opting for modern modes of thinking.
Trainees also learned ways of understanding the other's thinking and accept each other by eliminating hatred while promoting the international human rights principals that call for peace in the world. Thus, the achievement of this objective can only be realized by modes of thinking in new ways.
Trainees learned how to think by opting for Six Hats Thinking method and how to move out of one hat to another to reach the highest stages of scientific thinking. A further benefit that students gained was a scientific training on how to understand different personalities by opening channels of dialogue with them through the Six Thinking Hats method.
At the end of the session, the trainees revealed their recognition of the remarkable benefit they got from the cycle Six Thinking Hats. They also claimed that the session will obviously have a deep impact on their lives by modeling and improving their way of thinking.
The trainees even wrote a thank you letter to the Belgian international organization for human rights and development for organizing this session and for offering them useful community services. The trainees also showed their gratitude to the Kingdom of Belgium for supporting our organization and allowing it to practice such community activities.
We enclose pictures of graduate students as well as samples of thank you words by students who recognized the importance of the session and the value of our organization through activities that aim at spreading democracy and community equality as well as eliminating human rights violations, racial discrimination and hatred.
THE LIST OF THE TRAINEES WHO WERE OFFICIALLY REGISTERED FOR THE SESSION:
1-AHMED ABDULKADHIM MOHSIN
2-ALI SAMEER MHAWES
3-QAWAL MURAD ILYAS
4-wissam saad Mohammed alwajde
5-DURAID YASIR ABED
AL-SHAMMARI
6-MUAYAD JEDUR HAMEEDI AL-RUBAIAWI
7-AHMED KADHIM JABBAR AL-MUSAWI
8-KADHIM NAEEM KADHIM IBADI
9-ABBAS ABDULSALAM ABDULRAHMEEN AL-LAMI
10-MOHAMMED ANAYEM AZGHAYER
11-SAMY AHMED
12-ORWA SOUSI MOHAMAD SAMERAH
13-Abdelilah El TAQY
14-SUHAD KHALID SAGHEER
15-ABDULRAZAQ ABDULJALEL IBRAHIM
16-OMAR MAKTTOOF
ORAIBI
17-Wisal Ali Awad
18-Hosam Al-kurdi
19-MUSA MOHAMMED KHUDAIR
20- THAFER THABIT MOHAMMED ALANI
21- MAYSAM JAMEEL HAMEED
22- METHAQ HAMID HAMEED GABAWE
23- HIBA AL-SHAHIR
24- MOHANNAD KRAIDI
25- YUSUR MAHMOOD ABDULWAHHAB
26- OMER SAUD AZEEZ
27- ALFEDAA SABBAR
28- ABAALFADHEL HASAN TAHER
29- ZEINAB MUAYAD ALI AL-QUTBI
30- MOHAMMED ABDALLAH AWAD
31-TAHAR BAGANI
32- ZAINAB MOUTALI
34- MOHAMED HAMODI HAMZA
35 - OSAMAH AYAD ELIAS
36- yasser makkt
37-MOHAMMED LOUZZI
38- ALEZ ZUBEIR
39- ASMAA OBAID AL-IBRAHIMI
40- MAYSAM JAMEEL HAMEED
41-NIDAA MUTASHAR SADEQ AL-MELIYA
42-SALEH KAZEM AL-MOUZANY
43- HUSAM ABDULRIDHA JAWAD
44-MOHAMMED Abbas