Vote
For further training via the Zoom program or at our office? ?
AT THE CHURCH OF MARAVAN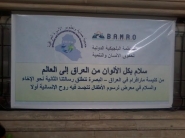 AT THE CHURCH OF MARAVAN
A message of peace in all colors was launched from the city of Basra in Iraq to the world this morning; January 08th, 2016. The main objective was to spread the spirit of peace, humanity, unity and coherence in Iraq.
In an exhibition of children's drawings in the church Maravram where the event took place, children revealed their joy in this beautiful event through their drawings about peace and love. Meanwhile, the archbishop Habib Nawfali expressed his greatest thanks and deepest appreciation for this humanitarian activity held by the two organizations to spread the culture of peace, fraternity and love among all components of the Iraqi people
This work was held under the sponsorship and support of the organization of protection and development of the Iraqi family with a partnership of the Belgian organization for Human Rights and Development.