Vote
For further training via the Zoom program or at our office? ?
A community activity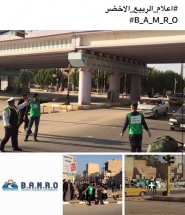 A community activity by Iraqi Youth
The youth of The Spring Green, which is allied with the Belgian Organization for Human Rights and Development, are young Iraqi people who joined our organization for the sake of community service in a professional manner.
Based on their cooperation with our organization, the team has participated in organizing the exceptional passage of visitors and car traffic that coincides with the launching of "the millions crowds" which starts out every year to visit the city of Karbala in Iraq, on the occasion of "Arbain visit". Thus, the team's work was conducted in order to reduce the momentary overcrowding in the main streets and important intersections in the province of Najaf.
The team of Spring Green, in cooperation with the Belgian Organization for Human Rights Development BAMRO, has taken part in the campaign to organize traffic for minimizing congestion and facilitating the arrival of visitors to the provinces of Najaf and Karbala in Iraq, especially that the city had already witnessed the influx of huge numbers of visitors heading towards the holy city of Karbala .
This activity comes within a range of ​​community services that witness the remarkable participation of the young people of Iraq.