Vote
For further training via the Zoom program or at our office? ?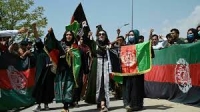 UN Assistance Mission in Afghanistan UNAMA
GENEVA/KABUL (17 April 2021) - In its latest report on the treatment of conflict-related detainees in Afghanistan published today, the UN documents an encouraging reduction in the number of cases of torture since 2016 but notes its ongoing concern at the high number of detainees who continue to report torture and ill-treatment.
The joint report by the UN Assistance Mission in Afghanistan (UNAMA) and the UN Human Rights Office, issued on the first anniversary of Afghanistan's accession to the Convention Against Torture's Optional Protocol, finds that nearly a third of conflict-related detainees interviewed provided credible and reliable accounts of having been subject to torture or ill-treatment. The report is based on interviews with 618 detainees held in 77 facilities in 28 provinces across the country between 1 January 2017 and 31 December 2018.
The report acknowledges progress made by the Government in implementing Afghanistan's National Plan on the Elimination of Torture, and highlights that this enforcement has had tangible results, with a reduction in torture or ill-treatment of conflict-related detainees across different security entities in the country.
Overall, among those in the custody of the Afghan National Defence and Security Forces, 32 percent based of the sample of the detainees reported torture and ill-treatment, compared to 39 percent over the previous reporting period (1 January 2015 to 31 December 2016). Notably, the reduction was more marked in 2018. In particular, within facilities of the National Directorate of Security (NDS), the prevalence of torture and ill-treatment of those interviewed decreased from 29 per cent to 19 per cent in 2018. And among conflict-related detainees held by the Afghan National Police (ANP), the proportion of those who reported torture or ill-treatment fell from 45 per cent over the previous reporting period to 31 percent. Youngsters were at a higher risk of suffering mistreatment.