Vote
For further training via the Zoom program or at our office? ?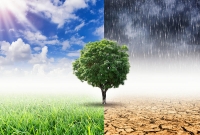 Launch of the Climate and Environment Charter for Humanitarian Organizations
Ann Vaessen, for the International Federation of Red Cross and Red Crescent Societies (IFRC), said that the climate and environmental crisis was having a huge humanitarian impact and was affecting peoples' lives and livelihoods every day, mostly in parts of the world that contributed least to the problem. In that context, to green its humanitarian operations and integrate climate-smart solutions across its work, the International Red Cross and Red Crescent Movement had developed and introduced the Climate and Environment Charter for Humanitarian Organizations.
Catherine-Lune Grayson, for the International Committee of the Red Cross (ICRC), said the Charter had been developed under the aegis of IFRC and ICRC for the humanitarian community, by the humanitarian community. After months of consultations with over 150 humanitarian organizations, the Charter had recently been opened for signature. ICRC was delighted to observe that it had already been signed by 25 organizations, with more expected to follow.
Climate change was making epidemics, floods, storms, droughts, heatwaves, and wildfires deadlier and more frequent. The scale of the challenge, and the uncertainty and the risks that it brought, required collective planning for the future. There was growing recognition across the humanitarian sector that climate change and environmental degradation were dramatically affecting communities, exacerbating risks and threatening lives and livelihoods. Moreover, the impacts of climate change were not equally felt: it was the most vulnerable communities across the world who were most affected.
Recognizing the need to improve the humanitarian response to the climate and environment crisis, the International Red Cross and Red Crescent Movement had begun to develop the Charter in 2019. Its aim was to guide the humanitarian sector's approach to the increasing risks resulting from climate change and to address its own carbon and environmental footprint.
Elaine Angeles, for IFRC, said the Charter contained seven commitments. Most notable were the commitments for humanitarian organizations to step up their response to growing humanitarian needs and support those most at risk to the impacts of the climate and environmental crises; and to maximize the environmental sustainability of their work and rapidly reduce their greenhouse gas emissions. Four commitments focused on how humanitarian organizations could achieve their ambitions, including by embracing local leadership, increasing capacity to understand climate and environmental risks, nurturing collective action and using their influence to mobilize more ambitious climate action. The seventh commitment was for organizations to adopt specific targets and action plans so they could measure their progress.
IFRC was now encouraging widespread adoption of the Charter and was developing tools and guidance to support organizations in implementation. It planned to share the Charter widely ahead of the United Nations Climate Change Conference (COP 26) in November 2021, thus signalling the strong commitment of the humanitarian community to scaling up its response to the climate and environment crises.