Vote
Do you support the re-cycle of understanding the characters?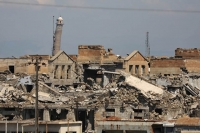 The dead are civilians in Iraq
In response to reports by the Associated Press that between 9,000 and 11,000 civilians were killed in the Battle of Mosul, Lynn Maalouf, Amnesty International's director of research in the Middle East, said:
"We were terrified by these new figures, but not surprised, because they are fully consistent with our results in the past, which reported that thousands of civilians were killed in the battle of Mosul and that these deaths are not caused by the armed group called the (only Islamic State) only but also by the Iraqi forces. Deaths from coalition forces are also estimated to be 10 times higher than those reported by coalition forces, who claimed only 326 deaths.
The lack of recognition by the Iraqi forces and the coalition of the number of civilian deaths in Mosul and the lack of investigation of them is a blatant abandonment of responsibility. We call for the exercise of transparency and an investigation into the violations committed by the US-led coalition in the illegal attacks documented by Amnesty International and other independent organizations during the Battle of Mosul ".
Many recent deaths have been a direct result of the killing or crushing of civilians under the rubble of buildings destroyed by attacks by coalition forces and Iraqi forces.