Vote
Do you support the re-cycle of understanding the characters?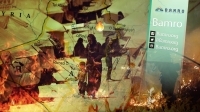 Right-side refugees in danger
Right-side refugees in danger:
During our participation in the UN Human Rights Commission in Geneva, our organization alerted at the meeting held on 04/03/2017 in room X11 on the third floor of the Commission building Human Rights in Geneva, where he discussed the human rights situation in the Middle East, a humanitarian disaster lived by the city in Nineveh province, Mosul in Iraq, Where violent fighting is taking place to free criminal gangs and where a large number of internally displaced people who have reached 39 miles have been displaced and have survived for seven days without food or water or shelter. These displaced people live today in very difficult conditions according to our sources.
We have alerted the threat of the transfer of displaced persons from the right side to the Cham and Khazar camp due to a lack of capacity to group them all in the same places since we know they need logistics equipment before The influx of displaced persons on the right side.
Our organization appealed to the UN committees to take swift action to save what can be saved and to immediately lift to the members of the Commission on Human Rights in Geneva an urgent list of recommendations from the competent Secretary-General .