Vote
Do you support the re-cycle of understanding the characters?
Protests in Iraq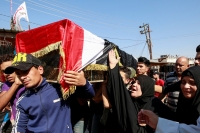 Protests in Iraq
Protests in Iraq
A huge shock after the violent intervention of Iraqi security forces against protesters in southern Iraq. Our organization BAMRO condemns to incomprehensible silence about the attacks on protesters and the killing of innocent people in the south of the country of The Ulemas and Religious Scholars who have a strong influence on the Iraqi government.
The organization calls on the UN High Commissioner to intervene as quickly as possible to restore order and stop violations and to refer monitoring and monitoring committees in this regard to identify in detail what has happened actually passed during these demonstrations against innocent people who went out to demand their rights.