Vote
Do you support the re-cycle of understanding the characters?
Murdering the press agents, again!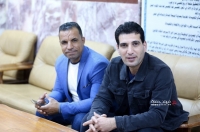 Murdering the press agents, again!
Assassination of the press agents, again!
Gunmen murdered journalists in BASSORAH province on Friday, which has seen anti-government protests since early October.
Journalist Ahmed Abdussamad was murdered by unknown gunmen and his companion, photographer Safae Ghali, also took his own life after serious injuries at the scene of the murder.
He has been present on the spot of demonstrations since the beginning of October, covering these events in almost all Iraqi territory, Basra and other Iraqi cities.
Other journalists and activists have either been killed or abducted by unknown armed people who are likely to be affiliated with government-backed armed militias. The militias even attacked television stations and set fire to media offices in early October.
Since the beginning of October, Iraq has seen anti-regime protests, resulting in the deaths of more than 1,000 and more than 20,000 wounded.