Vote
Do you support the re-cycle of understanding the characters?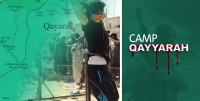 Mass graves inside a military camp, in Bakarah (Iraq)
Mass graves inside a military camp, in Bakarah (Iraq)

The Belgian international organization for human rights and development (Bamro) has gathered concrete information about Bakarah, an Iraqi military camp that has fallen to the terrorist organization Daesh since 2014. This base, transformed into a training camp for Daesh, is also home to an immense cemetery for the victims of the terrorist organization.
According to documents obtained by our organization, Daech engages in mass executions of civilians in this camp, which are   sometimes  mentioned, and the victims are buried in mass graves, each containing between 25 and 60 cadavers.

According to witnesses who informed our association, Daesh executed 21 civilians who resided in Hawiya in Kirkuk province. These executions took place on December 23, 2016 at 16:00 after a raid. The raid targeted the province at random on the pretext that villagers were helping civilians flee from areas controlled by the terrorist organization. Daech accuses the villagers of collaborating with the Iraqi government.
After their execution, the victims were  buried in a mass grave inside the Bakarah camp.

The Belgian International Organization for Human Rights and Development (Bamro) has submitted an urgent and detailed report to the High Commissioner in Geneva on violations of human rights committed by the terrorist organization Daesh.