Vote
Do you support the re-cycle of understanding the characters?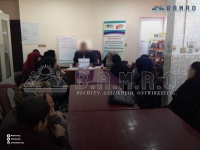 in the context of physiological support activities we provide for victims
in the context of physiological support activities we provide for victims  , in the 20th of November 2016 , a dedicated group of our organization managed to hold an interview with a group of women whom where prisoners of ISIS, the terroristic group , and managed to escape towards Kirkuk , a City at the north of Iraq . Our organization managed to cop-operate finding a temporary houses for them, as well holding a physiological assistance sessions aiming to enable them being independent in the new city they moved to.
in Sunday 25th of December 2016 , in the occasion of the Christmas holidays , a small party will be held for the young women whom escaped from ISIS's prisons. during the party , those girls and women talked about the the different type of torturing they faced there , including but not limited to ، rights violation , threatening of raping , physical violence as well as stealing  their money and jewelers . nevertheless they described a raping incident of one of the women by ISIS members near Qayyarah ، Mousel district ، Claiming that her husband is working with the People's Mobilization Forces , the incident that leaded the woman to trying to commit suicide twice in addition to the horrible physiological situation.
and immediately, Belgian association for Human rights and development  raised a Human rights detailed memorandum to the Human rights association to inform what has been observed by our organization of human rights violations done by ISIS"