Vote
Do you support the re-cycle of understanding the characters?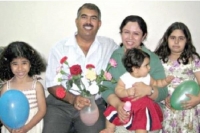 Houthi Group in Yemen
Houthi authorities must immediately abolish the death penalty against Hamid Haidara. He is a prisoner of conscience judged for his beliefs, and his peaceful activities as a Baha'i disciple.
His conviction is a huge loophole and a major violation of human rights because during his detention he was tortured physically and morally knowing that a large part of journalists and human rights activists suffered the same fate.
"The death penalty is a violation of the right to life, and represents the ultimate form of cruel, inhuman and degrading punishment" there should be the abolition of the death penalty against Hamid hydra immediately, and he must be released immediately and without conditions.
The Houthi authorities must end the persecution of Baha'is and respect their right to freedom of religion - a right enshrined in the country's constitution and international law