Vote
Do you support the re-cycle of understanding the characters?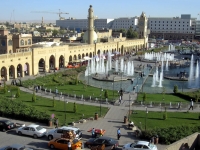 Executive Summary of the Report of the BAMRO on Violations of Iraqi Laws
Executive Summary of the Report of the Belgian Organization for Human Rights and Development on Violations of Iraqi Laws
Our report presents the Iraqi Parliamentary Council with recommendations to help rectify these violations
Among the main points covered in the report:
First: the Iraqi anti-terrorism law of 2005 with its obscure elements, gives right to several unjustified arrests (thousands of arbitrarily arrested), among them human rights activists.
Moreover, according to this law, arrested persons are subjected to improper judgments based on confessions taken under torture before being sentenced to death.
Our organization is concerned about non-compliance with investigative principles by keeping people, for years, in secret detention or without presenting them to a judge.
Collective sentences: Announcing death sentences and executing death sentences against a large number of people at once. The committee and the Human Rights Council have called for an end to these arbitrary executions or with very short procedures. However, Iraqi lawmakers have made new amendments that make it possible to execute death sentences without the agreement of the President of the Republic. The agreement of the president was a necessary condition for the execution of these judgments. This change is made to speed up the execution process.
Our report also dealt with the existence of secret detention points and the practice of enforced disappearance which facilitates the use of torture during interrogations in order to have (illegal) confessions.
The use of confessions extracted under torture as the only evidence in the Iraqi courts is considered to be an unjust element in addition the actors of these crimes are not brought to justice.
Finally, our report discussed the issue of the digital crime bill and the danger it poses to freedom of expression. Several acts of vengeance were made under this law against a number of activists and journalists. This law endangers political and opinion activists.
Our organization calls on the Iraqi Parliament and United Nations committees to intervene to put an end to these violations that hinder people's freedom and endanger their lives.