Vote
For further training via the Zoom program or at our office? ?
Catastrophe in Mossoul Iraq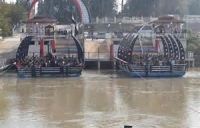 Catastrophe in Mossoul Iraq
Catastrophe in Mossoul Iraq
The Belgian international human rights organization has published a report about the wreck in Mosul.
The organization released report number 80 dated 01.12.2016 which explains that the terrorist organization DAECH has destroyed almost all of the province's infrastructure (including the bridges). The report contained photos that show the seriousness of the city's situation. Among the published information, the disappearance of two citizens so far not found.
 The organization mentioned the danger present in the Mossoul forests for visitors. A copy was sent in parallel to the Iraqi government and the United Nations office in Iraq.
120 dead, mostly women and children in a shipwreck in Mossoul. The ferry which is supposed to be a means of transport for visitors and tourists does not present in the normal case a danger for people's lives. But because of the deteriorated state of the tank 120 people died.
Our organization is once again asking United Nations organizations and the Iraqi government to check the state of the bridges and the infrastructure of the province. The technical test showed that the water dam in Mossoul is in a bad state and that it must be repaired before the arrival of the summer to prevent any possible disaster.
We insist on guaranteeing the safety of Iraqi citizens in general and MOSSOUL in particular. At the same time, we commend the efforts of the government-appointed cell following this disaster in Iraq, while waiting to reward citizens for what has happened.